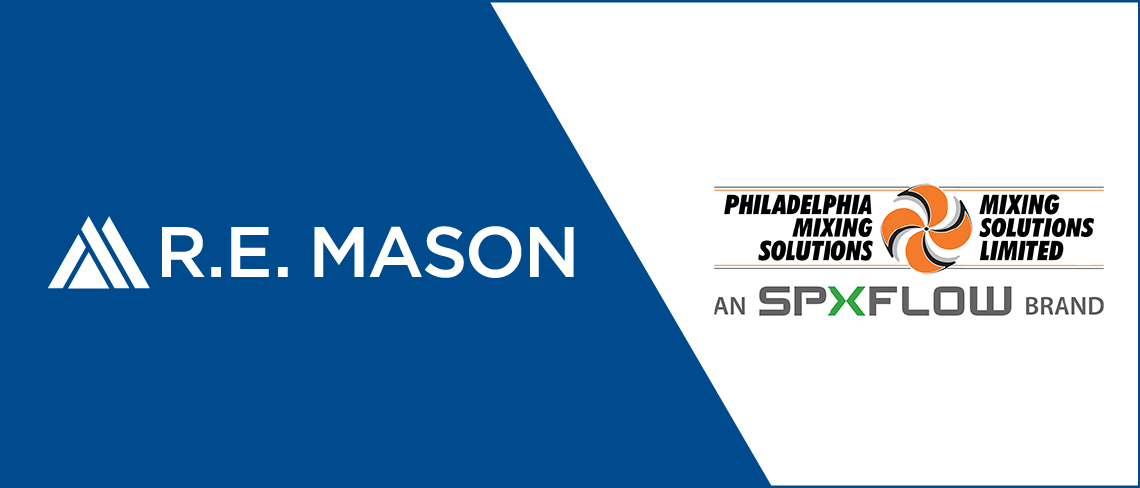 R.E. Mason, a long representative of SPX Flow Lightnin, is proud to announce that we have been selected to represent Philadelphia Mixing Solutions in North Carolina, South Carolina, and Virginia. We are now able to serve our customers in the chemical, petrochemical, mining, pharmaceutical, and food & beverage markets with two leading agitator manufacturer choices. 
R.E. Mason is dedicated to providing our customers with top quality, high-performance solutions that align with our core values. Philadelphia Mixing Solutions offers just that and has a proven track record of customer focus, technical expertise, quality, and on-time delivery.  
Charlotte-based SPX Flow Corp. acquired Philadelphia Mixing Solutions in May of 2021. The Philadelphia Mixing Solutions brand is now part of the broader SPX FLOW mixing solutions portfolio, allowing them to offer broader capabilities and expertise for customers. 
About Philadelphia Mixing Solutions 
Philadelphia Mixing Solutions provides innovative products, technical services and field support to customers around the world. Extensive in-house testing and analysis allows customers to visualize expected results, saving time and material costs. Backed by 65 years of industry experience and with a rich tradition of technology, the company's research and development teams use cutting edge testing and process modeling to create unique mixing solutions to meet individual customer requirements. For more information, visit philamixers.com. 
Solutions Include 
Modelling 
Test Lab 
Load Testing 
Impeller Technology 
Solid Suspension Mixing and more 
Let us know what we can do to help you improve your profitability, product quality, or equipment reliability.