Our website uses cookies. By continuing to browse our site you are agreeing to our Cookie Policy.

Diaphragm Valves Designed to Meet Your Process Needs
Established in 1964, GEMÜ is a leading manufacturer of Sanitary, high purity and industrial diaphragm valves, angle body globe valves and process automation components.
GEMÜ is the worldwide leader for Sanitary, aseptic diaphragm valves and continues to provide innovative solutions to aseptic processing environments. Sanitary aseptic diaphragm valves are the recommended valve selection by the ASME BPE for compendial water systems and aseptic aqueous processing. GEMÜ diaphragm valves come in a multitude of configurations and are suitable for ultrapure water (WFI), high purity chemicals, intermediate and final products, API's, food processing, beverages, and chemical processing and/or additions. In addition to standard straight through 2-way valve bodies, GEMÜ offers thousands of multi-port body configurations designed to optimize your process.
Need more information? Get in touch with an expert.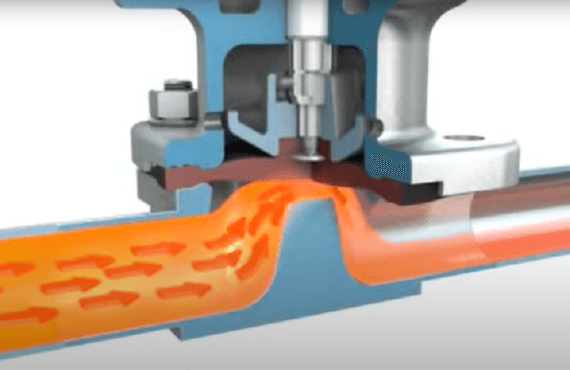 Valve principle diaphragm valve with metal body
The animation shows how a medium flows through and is shut off by a weir type metal diaphragm valve. Valves based on the diaphragm principle are recognized as having a design with minimal deadleg.